Chiropractor Park City – Mountain Sports Chiropractic – Pain Management, Chiropractic Care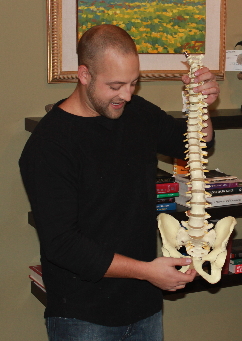 If you are in the Park City area, and are looking for a quality cash-only chiropractor, look no further than Mountain Sports Chiropractic and Dr. Christopher L. Trimner. Mountain Sports Chiropractic specializes in all aspects of chiropractic care, not just spinal alignment. Dr. Trimner is unlike any other chiropractor in Park City. Where most chiropractors in Park City spend an average of 3-5 minutes per client, Mountain Sports Chiropractic makes sure all clients are well taken care of, not missing anything that could be of help to them. This attention to detail means that Dr. Trimner spends an average of 15 minutes per client. This extra time gives him the ability to not only focus on spinal alignment, but full body alignment, every joint in the body. Finally, there is a chiropractor in Park City that cares about you.Call today for an appointment, 435-565-1661, or fill out our online request form.

Dr. Trimner is an athlete himself, and, as such, has dedicated Mountain Sports Chiropractic to aide with sports rehabilitation. Dr. Trimner treats all types of athletes, from the Olympian going for the gold, to the average Joe running their first 5k. With such an athletic background, Dr. Trimner knows an athletes body, and can make all necessary adjustments and muscle work to get the athlete to his peak physical condition, regardless of injury.
Park City Chiropractor Available on Nights and Weekends
When looking for a chiropractor in the Park City area, it can be quite a challenge to find a Dr. that is available when you are. If you are having a hard time scheduling with your chiropractor, it's a good time to give Dr. Trimner a call. Dr. Trimner is available for evening appointments, both in and out call, as well as weekends. We understand that pain doesn't take time off. Or maybe the weekend is the only time you have to get anything done in this crazy world of ours. No matter the reason, if your regular chiropractor is closed and you need an adjustment, we'd love to be your chiropractor. If you need a weekend chiropractor, call Mountain Sports Chiropractic and Dr. Christopher L. Trimner today.
Call today for an appointment at 435-565-1661
or fill out our online request form.